Carrollton Exterior LED Lighting
Have you thought about elegant downlighting for your home or business? At Trimlight, we provide Carrollton exterior LED lighting that beautifully accents the architectural features of your home while simultaneously increasing security. After all, no trespassers want to approach a well lit home. It's not an easy target!
Inexpensive LED Lighting Installation in Carrollton TX
We, at Trimlight, are accustomed to seeing the look of surprise on our customers' faces when they realize how inexpensive Carrollton LED lighting installation can be. We'll come to your home or business and give you a free estimate. We've been in business, locally, for 10 years. Therefore, our teams are proficient in the installation process where you'll see fine workmanship and a wonderful result.
The patented tracks that hold the LEDs will blend perfectly with your exterior. The diodes themselves are waterproof and made to last for 50,000 hours. They're also very energy efficient so your electric bills are substantially lower than what you may be used to.
The Many Benefits of Our Exterior LED Lighting in Carrollton TX
We haven't even mentioned the fun part yet. You're now aware of our Carrollton exterior LED lighting and its ability to accent your roofline beautifully. However, with the simple touch of a button, these same lights transform into a dazzling, colorful display appropriate to any event or holiday!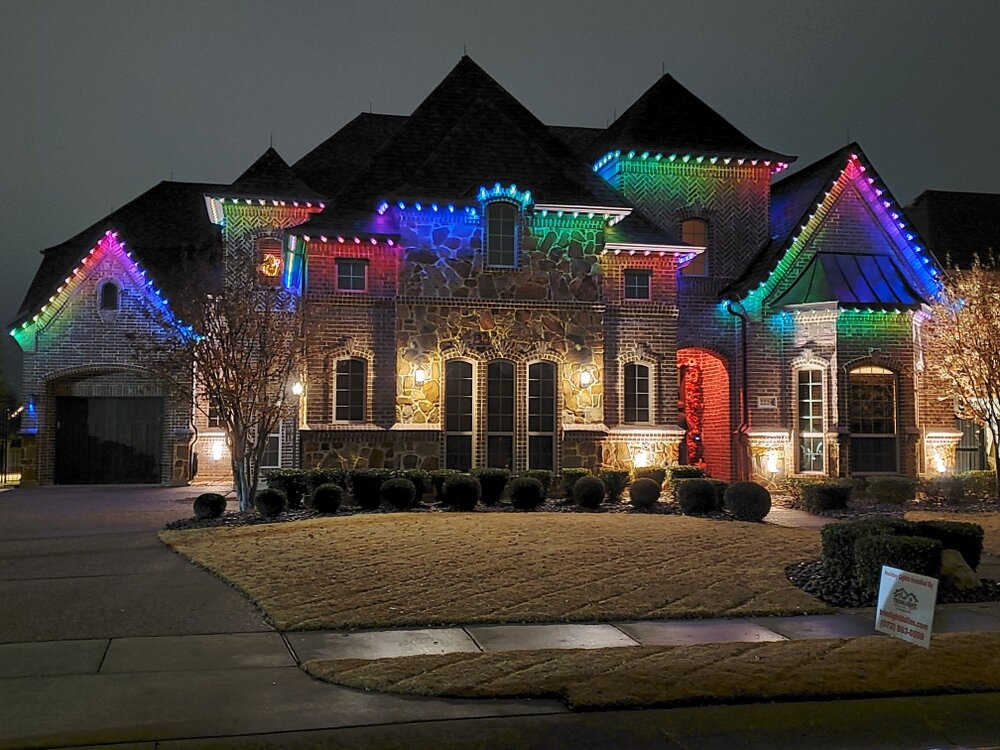 Here are some fun facts about Trimlight:
9

Best-in-class warranties

9

Made to last for decades

9

16,000,000 possible colors

9

180 presets to choose from

9

The lights are barely noticeable during the day

9

Built to withstand all types of inclement weather
There are so many benefits to accenting and adorning your roofline with our high quality LEDs and the best part is… you'll never have to hang lights again!
Contact Trimlight
Let's improve security at your home or business and impress onlookers at the same time! Call us at 972-863-0509 to answer any questions about our quality Carrollton exterior LED lighting.