Flower Mound Outdoor Exterior Accent Lighting
If you're ready to add accent lighting to your property, why not choose the Flower Mound outdoor accent lighting specialists trusted by homeowners, restaurants, stores and other businesses as well as builders and contractors? Trimlight is a locally-owned business that's been installing exterior accent lights in Flower Mound TX for the past 10 years.
How Can Flower Mound Exterior Accent Lights Improve the Look and Safety of Your Property?
Our accent downlighting can add a subtle elegance to your property all year, and can be changed easily via our Trimlight app so that you can create festive holiday and event lighting whenever you'd like. Our lighting also provides added security for your property whether you're there or not.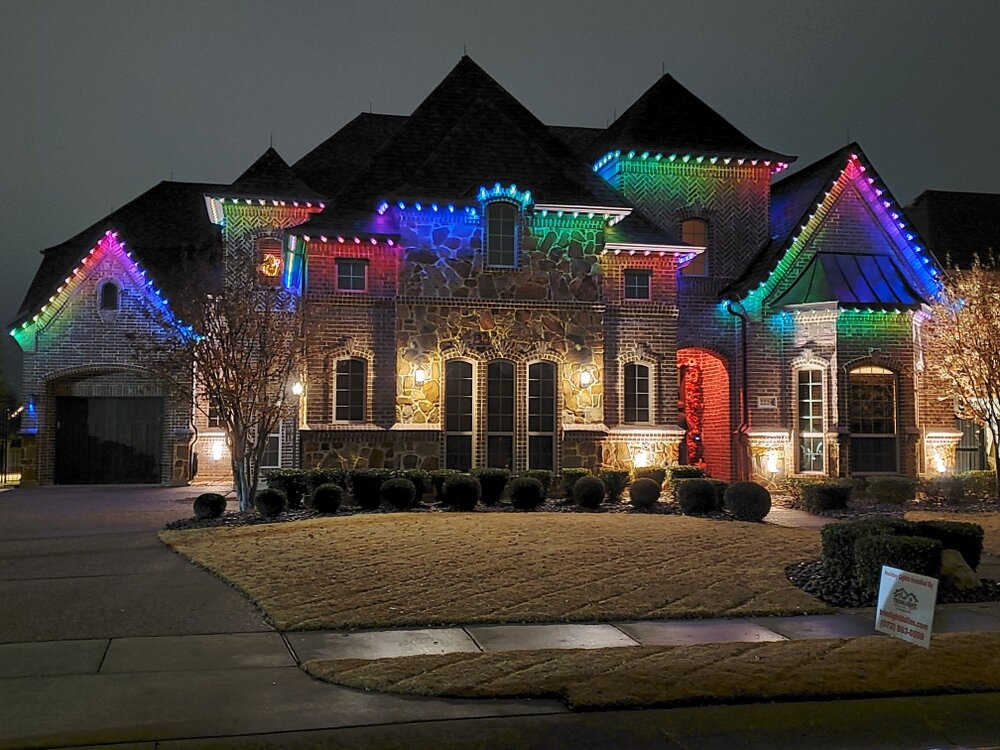 Our trained installation teams can install our Flower Mound outdoor accent lighting:
9

Around doorways and windows

9

Around your garage doors and along your driveway

9

Along your outdoor walkways and stairs

9

Throughout your patio, pool, tennis courts and other outdoor entertainment and sporting areas

9

Around trees and other landscaping

9

On your roof to highlight its unique architecture with ridge lighting

9

And much more.
Our outdoor accent lighting in Flower Mound TX lets you set up to 180 different programs in millions of different colors and patterns. Switch them up in just seconds or program the calendar ahead of time so you never have to give it a second thought. That's one less decorating chore you have to worry about when the holidays roll around or you're planning a party.
Long-Lasting, Weather-Proof Lighting
Our exterior accent lights in Flower Mound TX are made to provide light for 50,000 hours. They're strong enough to withstand our harsh North Texas weather. They're also virtually invisible when they're not on, so they won't detract from the beauty of your property.
We stand by our lighting systems with a manufacturer's lifetime warranty on parts as well as Trimlight's 2-year installation warranty.
Call Us Today
Discover what Trimlight's Flower Mound outdoor accent lighting can do for your property. Give us a call at 972-863-0509 to arrange for a free onsite estimate at no obligation.