Lewisville Outdoor Exterior Accent Lighting
If you're in the market for accent lighting for your home or other property, turn to the Lewisville outdoor accent lighting professionals at Trimlight. We're a locally-owned business that's been the choice of homeowners, builders, contractors and business owners for 10 years.
Our Lewisville Exterior Accent Lights Can Bring a Unique, Elegant Style to Your Property
Accent lighting can provide security and improve safety around any property. But they can do so much more than that. They can highlight the architectural elements of your home and add a fun, festive feel to your outdoor entertainment areas. When they're not on, they're barely noticeable.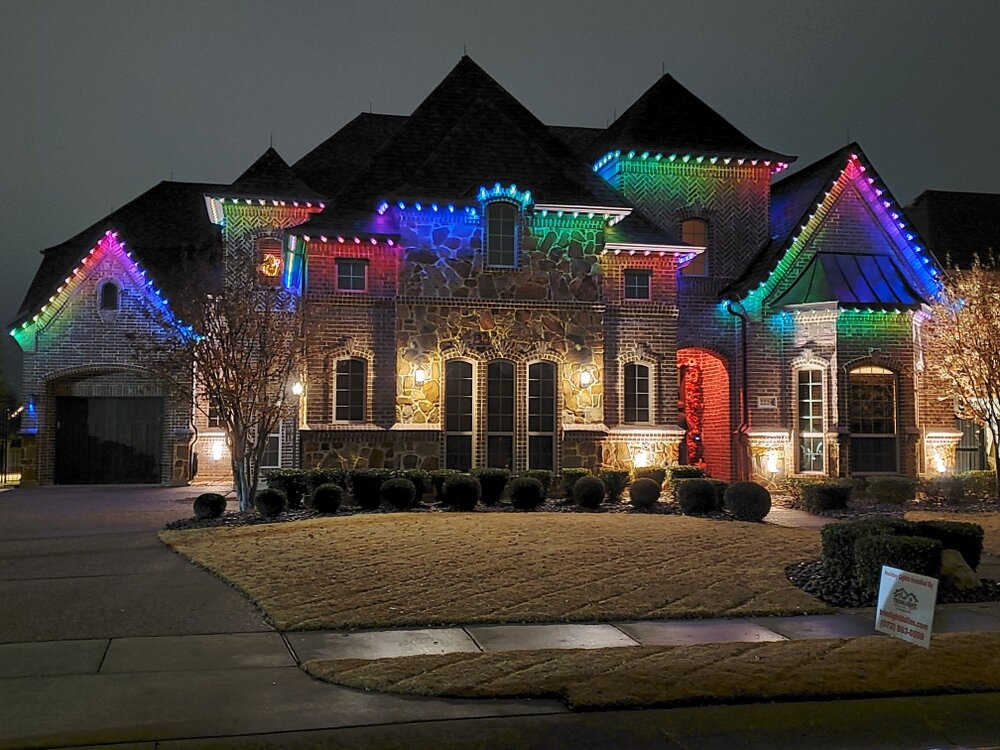 Our LED outdoor accent lighting in Lewisville TX is especially popular:
9

Around doorways, windows and garages

9

Along outdoor stairs and walkways

9

Around patios, pool areas, tennis and basketball courts and gazebos

9

Around trees, bushes and other landscaping

9

Along walls and around gates

9

As ridge lighting on roofs
Our Lewisville outdoor accent lighting includes 180 preset programs that let you choose up to seven colors at a time and multiple different combinations and animations from our easy-to-use app. There's no need to put up lights for the Christmas or other holidays. Just program your choice of lighting.
The app also has calendar and timer functions. You can turn your lights on or off or change the program from wherever you are.
Durability and Energy Efficiency
Our exterior accent lights in Lewisville TX use the highest quality diodes that are designed to provide 50,000 hours of light. They're weather-proof, so they can withstand rain, heat, winds and more. Our Lewisville outdoor accent lighting comes with a 2-year installation warranty and a manufacturer's lifetime parts warranty.
Our LED lights are a more energy efficient choice than traditional lightbulbs, so you'll save on energy costs. Our pricing is competitive and we offer financing with easy payment options.
Give Us a Call to Schedule a Free Onsite Estimate
How can Trimlight's exterior accent lights in Lewisville TX add value and elegance to your property? Call us at 972-863-0509 and one of our experienced lighting pros will visit you and discuss ideas — with no obligation to buy. We look forward to meeting you!