McKinney Outdoor Exterior Accent Lighting
Beautify your home and protect it simultaneously! Trimlight offers exceptional McKinney outdoor accent lighting at a price that will fit any homeowner or business owner's budget. We offer exceptionally high quality LED exterior lighting for your roofline, patio, gazebo, pool area and more.
Quality Exterior Accent Lights in McKinney TX
Elegant, white accent lighting increases the property value of your home. Our durable, all-weather resistant lighting blends in seamlessly with your roofline and accentuates gables, architectural features and the ground below. The tracks, which hold the accent lighting, can match any exterior paint color.
Trimlight has an A-rating from the BBB and we have multiple five star reviews as well! We offer industry-leading warranties on the materials and the installation. Our easy installation of your beautiful outdoor accent lighting in McKinney TX prevents unnecessary accidents involving ladders and roofs each year! Why take the risk?
More Than Just McKinney Exterior Accent Lights?
The truly wonderful thing about our premium McKinney outdoor accent lighting is that it's also programmable, multi-colored holiday lighting! Use our simple App to select from 180 preset animations of festive cheer!
You may select Halloween colors that animate in delightful patterns or choose colors and patterns more appropriate to other important holidays. Your whole neighborhood will delight in your impressive light show, which was tasteful accent lighting on any given previous night.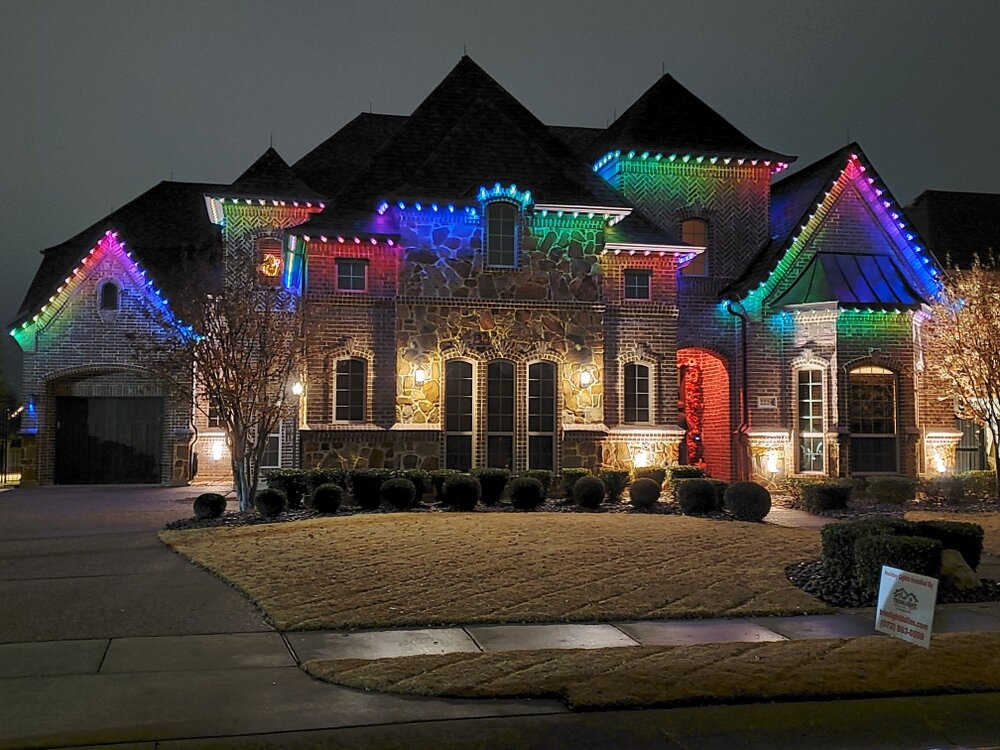 Here are some great benefits of our exterior accent lights in McKinney TX:
9

Bright security lighting all year long.

9

Extremely energy efficient.

9

Completely waterproof diodes.

9

Able to withstand high winds.

9

Lifetime manufacturer parts warranty.

9

Customize light patterns for any event.

9

Useful for any part of your home or business.
Make it appear as if your home is occupied on any given day of the year and do it in style!
Contact Trimlight Today
Please give us a call us at 972-863-0509. We're more than happy to answer your questions on beautiful McKinney outdoor accent lighting today.