Richardson LED Outdoor Downlights
Here at Trimlight, we're ready to beautify your home with sophisticated Richardson LED downlights. Our downlights (with highly durable, all-weather resistant LED bulbs) provide the perfect showcasing opportunity for your home and add considerable safety for your family.
The Highest Quality Exterior Lighting
You'll never have to climb a ladder again to install festive displays of programmable lighting with over 16,000,000 colors. That's because our outdoor downlights in Richardson TX also have unlimited holiday display options.
Go from gorgeous white lighting to 180 preset colorful programs with our simple-to-use App for iPhone or Android. Our professional team will install your Richardson downlighting to blend in seamlessly with your exterior paint colors. Our elegant track solutions for your LED lighting are barely noticeable during the day but provide so much joy at night!
LED Downlights in Richardson TX for a Stunning Home
Your highly programmable downlighting in Richardson TX is also highly affordable. For 10 years, Trimlight has heard clients talk about the value they're getting for our professional exterior lighting. Imagine having this lovely accent lighting that also turns into a festive display for holidays every year!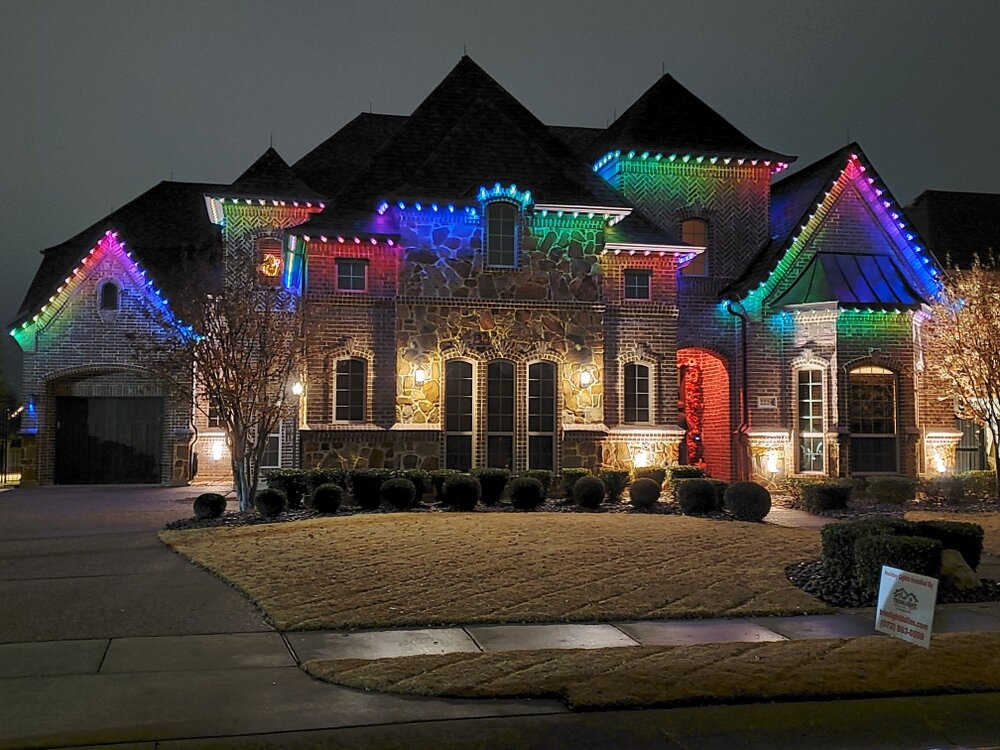 Here are some great benefits of our premium quality Richardson LED downlights:
9

Designed to last for decades.

9

Extremely energy-efficient.

9

Increase the safety of your home.

9

Wires are completely hidden from view.

9

Withstands all adverse weather conditions.

9

Industry-leading 2-year installation warranty.

9

Permanent sophisticated lighting accents for your home.

9

Our patented channel designs blend into your home's rooftop.

9

Program millions of colors and animations for holidays with our Richardson outdoor downlights!
Your home will always look its best (or its most festive and brilliant) with Trimlight!
Contact Trimlight Today
Please call us at 972-863-0509 to answer any questions about our products and easy installation. We look forward to beautifying and safeguarding your lovely home with our Richardson LED downlights!